Return to Headlines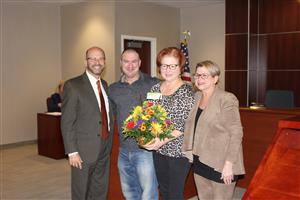 Ms. Ann Subrizi began her career here at Bergen County Special Services in 1993 as a teaching assistant in the Autism Continuum. Ms. Subrizi served in that capacity for 8 years as a positive, proactive member of many instructional teams, directly impacting the success of her many students. In 2001, Ms. Subrizi was appointed to the position of Secretary in the Autism Continuum. Her move into this position was seamless, having worked in the private sector for 22 years prior to joining the distict. Ms. Subrizi has supported the continuum through many transitions including two new Principals, five different Supervisors, the expansion of the program from two sites to eleven, and the move to the new facility.
Commitment to service has been a way of life for Ms. Subrizi, as she provided exceptional services to our district all while serving her community in leadership positions from the PTO, to the ElKS, to Councilwoman and finally as the Mayor of New Milford. Ms. Subrizi was formally recognized by her peers at Washington Elementary in 2003 as the Educational Support Person of the Year, but she is recognized every day by her constituents in the Autism Continuum as a role model for all. As she embarks on her new roles as a grandmother, world traveler and retiree, we wish Ms. Subrizi health and happiness.
The Bergen County Special Services School District and Board of Education would like to thank Ms. Subrizi for her years of dedication and wish her a long, happy and healthy retirement.